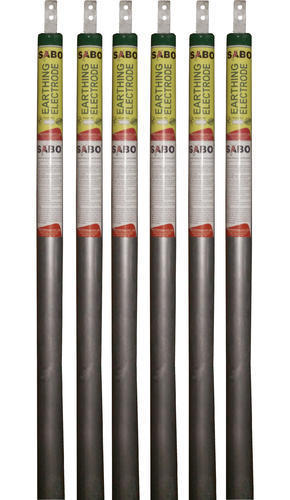 Product Description
Strip in Pipe electrode earthing :-
The primary earthing electrode (Flat) is inserted the secondary electrode in the form of hot dipped galvanized Flat which would yield a very high cross sectional conduction area and surface area.
The secondary electrode (Outer Pipe) is filled with a Highly conductive and non Corrosive Compound, an innovative product of our which safeguards the primary Electrode. Over a long period. Even if the outer shell corrodes the inner electrode functions in a normal way protected by the special compound. The bottom is sealed with the help of hot dipped galvanized solid base and the top with a sealed cap theentire unit is sealed so that the corrosion does not seepth rough.
SABO Safe Earthing Electrode comes with a special compund named Back fill Compound (BFC) which is to be used surrounding the Electrode. BFC has three properties.

1] Anti Corrosive
As it is a Anti-Corrosive, it will take a very long period for the corrosion

2] Highly Conductive
As it is a Highly conductive, area of conductive zone will be the pitsize[6 inches or 8 inches and 2.5 to 3.5 Mtrs. Depth. It will be the conductive zone. Whereas in conventional type of earthing conductive zone limits up to that pipe or plate.

3] Hygroscopic.
As it is Hydroscopic, in nature that means it absorbs the moisture form surrounding Five Times more of its dry Volume. Due to this you don't need to put any charcoal powder, salt water etc., and there's no more periodic maintenance It is maintenance free system.
The MFC has Unique Composition that slows down the normal wear and tear of the outer Shell due to corrosion and helps to sustain functional utility for a long period that is above 20 Years and that to without any periodic maintenance.
Benefits :

Highly reliable for Safety of Human Life
High Load carrying and maximum fault current dissipation instantly.
Maintain low resistance values for a very long period having the bare minimum fluctuations.
Ensures Protection always.
Single Product in wide range in different sizes to suit every and all kinds of Earthing requirements.
Easy to Install.

Strip in Pipe Electrode Earthing.
Contact Us
Banarsi Complex, First Floor, Faizabad Road, Opp. SBI Nishatganj Branch, Lucknow, Uttar Pradesh, 226006, India
Phone :+918068091410