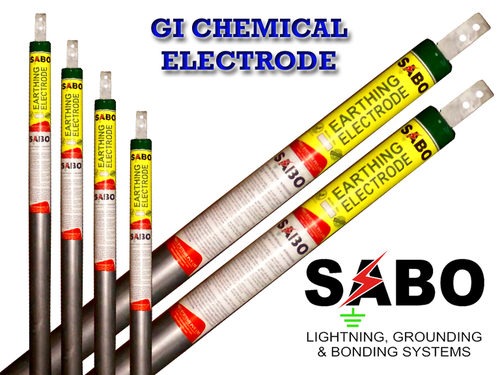 Product Description
Safe Earthing Electrode

Construction and Functionality

The secondary earthing electrodes is filled with highly conductive and non-corrosive compound, and innovation of ours which safeguards the primary electrode, over a long period of time from getting corroded, Even if the outer shell corrodes the inner electrodes functions in a normal way protected by the special compound.
The bottom is sealed with the help of hot dipped galvanized G.I., Solid steel or copper plate and the top is sealed witha cap, with ectende electrode, The entire is sealed so that the corrosion does not seep through.
SABO Earthing electrode
comes with a substance named MINERAL FILLING COMPOUND (MFC), which is to be used surrouding the electrode to retain moisture in lieu of salt & charcoal.This enables the 'compound' electrode interface that expands and contracts thus reducing the surge impedance when charged the MFC zone becomes highly positively charged zone. Which helps in instant dissipation of current. This enables the electrode to maintain constant contact with the surrounding soil and helps to sustain functional utility for a long period of time.Our product can be used in ths form of a GRID using three or more in nos. For highly sensitive projects and wherever low OHMIC value is required.Cross sectional Area in square mm and surface Area in mm is the most important factor for every earthing.
Contact Us
Banarsi Complex, First Floor, Faizabad Road, Opp. SBI Nishatganj Branch, Lucknow, Uttar Pradesh, 226006, India
Phone :+918068091410