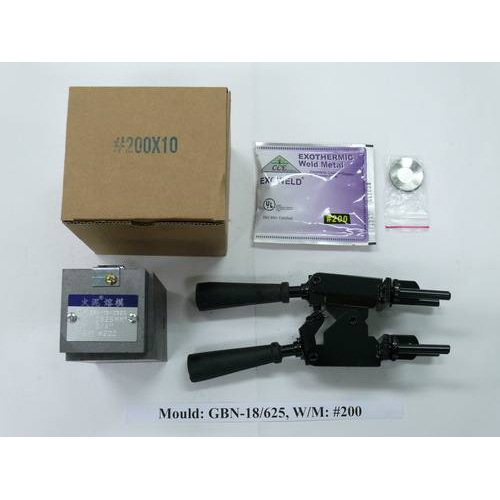 Exothermic Welding
Product Code : SABO-EXO
Product Description
Leveraging on our wide expertise and skills, our firm is acclaimed as one of the famous service providers of Exothermic Welding in the market. These services are provided by our experts as per the specific needs and requirement of our clients. Our offered Exothermic Welding service is highly demanded by various industries for grounding & bonding and lightning protection.
Features:
No external power is required for jointing
Never loosen or corrode
Molecular bonding of copper and other metals can be made
SABO-EXOWELD is a new bonding technique in which one conductor/connector gets molecularly bonded to the other conductor/connector.
The process of exothermic welding is a method of making electrical connections of copper to copper or copper to steel in which no outside source of heat or power is required. In this process, a special weld metal material is placed into a high temperature resistant mould and ignited. The process of igniting the particles creates extremely high heat and molten metal (exothermic reaction), and produces a molten metal slag. This liquid copper metal flows into the weld cavity, filling any available space and completes the weld. The weld is then allowed to cool and solidify before it is removed from the mould. The mould is ready for the next weld after a brief cleaning with a brush. This entire process takes only seconds to complete. Exothermic welded connections produce a permanent connection, superior in performance to any known mechanical or pressure type surface-to-surface contact connector. Because the connection produced is a molecular bond, an exothermic welded connection will not loosen or increase in resistance over the lifetime of the installation.
Exothermic weld moulds between wire to wire splices, Tees, wire to ground rods, rod to rod, rod to strip, wire to steel and cast iron, lugs, bus bar, etc.
SABO-Exothermic weld powder is as per UL467, IEEE 837, IEEE 80 and IEEE 1100.
Exothermic welding is applicable to following materials:
Copper, Steel, Cast Iron, Brass, Bronze, Columbium, Copper Clad Steel, Galvanised Steel, Monel, Niobium, Pure Iron, Silicon Bronze, Stainless steel, Wrought Iron & Steel rail.
Advantages of SABO- Exothermic Welding
1. Molecular bonding of copper and other metals can be made
2. Current carrying capacity becomes equal to or greater than the conductor
3. Never loosen or corrode
4. Will not deteriorate with age
5. Withstand repeated faults
6. No special skills and labour required
7. No external power is required for jointing
8. Easy to handle and transportable
9. Can be checked visually
For every type and size of joint different graphite moulds are used. Exact sizes of the two metal / conductors for which the exothermic welding is required for selection of the mould and weld metal.
All moulds and weld powder are UL listed. Welded joints are tested as per IEEE 837 (Standard for substation grounding).
Applications:
Ideal for all earthing joints, strip joints, solid wire joints, rod joints, cable joints, wire and lug connections, cable and rail joints, continuity bonding and track circuiting, etc.
Types of exothermic weld metals:
A type Weld Powder : Used for connections involving all types copper wires, busbars, steel to steel , rods / or grounding rods ( Tee's, X's. L etc.), thermal lugs connections. As per IEEE 837& UL 467 Std. tested, comply ASTM E8M, RDSO spec. RDSO/SPN/197/2008,TI/Spec/OHE/Exothermic bond/010,
Application: Grounding & bonding and lightning protection in power plants , substations , transmission line , refinery , industrial plant , commercial plants , telecommunication tower , building , housing etc.
B type Weld Powder : Used for making railway signaling bond ( horizontal cable end tap to web rail , horizontal cable end tap to head rail , stud tap to web rail ) , comply AREA & ASTME8M Std. & RDSO spec. no. IRS:S: 103 .
C type Weld Powder : Used for connection with cast iron components.
CP type Weld Powder : Used for making connection in cathodic protections as per ANSI/ASME B 31.4 / 31.8 Std.
Contact Us
Banarsi Complex, First Floor, Faizabad Road, Opp. SBI Nishatganj Branch, Lucknow, Uttar Pradesh, 226006, India
Phone :+917042637399