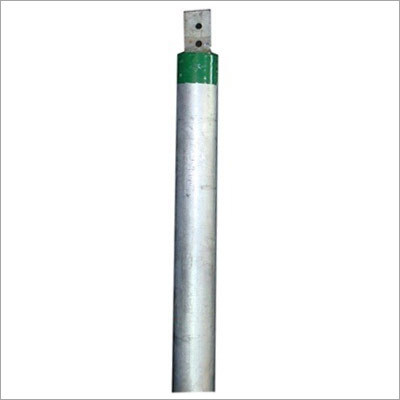 Chemical Earthing Electrode
Product Code : MFE
Product Description
In a very short span of time, our company has gained immense reputation in the market and emerged as one of the foremost manufacturers and exporters of Chemical Earthing Electrode. Our company manufactures this earthing electrode as per the predefined international market standards and norms. Offered precision engineered Chemical Earthing Electrode, is widely used for safe earthing of areas and buildings.
Features:
Highly galvanized pipe is used for electrode
Non-corrosive in nature
Not pollute the soil or local water table
Design of Earthing & Bonding system
GI Electrode (SABO-MFE)
1. Highly galvanised pipe is used for electrode
2. Highly conductive & non corrosive mixture is poured inside the electrode so that inner strip or pipe will never corrode and provide lowest possible resistance.
3. Made of G.I.
4. ISI marked pipe.
Earth Enhancement material SABO-EREC:
Earth enhancement material (NABL lab tested having 0.039Ohm-m resistivity) is a superior conductive material that improves earthing effectiveness, especially in areas of poor conductivity (rocky ground, areas of moisture variation, sandy soils etc.). It improves conductivity of the earth electrode and ground contact area. It has following characteristics:
- high conductivity, improves earth's absorbing power and humidity retention capability.
- non-corrosive in nature having low water solubility but highly hygroscopic.
- suitable for installation in dry form or in a slurry form.
- not depend on the continuous presence of water to maintain its conductivity.
- permanent & maintenance free and in its set form, maintains constant earth resistance with time.
- thermally stable between -100 C to +600 C ambient temperatures.
- not dissolve, decompose or leach out with time.
- shall not require periodic charging treatment nor replacement and maintenance.
- suitable for any kind of electrode and all kinds of soils of different resistivity.
- not pollute the soil or local water table and meets environmental friendly requirements for landfill.
- not be explosive.
- not cause burns, irritation to eye, skin etc.
Construction of loop Earth by providing multiple earth pits:
- Generally desired earth resistance <5Ohm is required for all electrical equipments. However, for some equipments it is required less resistance value. Where ever, it is not possible to achieve earth resistance of <2ohm as desired with one earth electrode /pit due to higher soil resistivity. In such cases, provision of loop earth consisting of more than one earth pit shall be done. The number of pits required shall be decided based on the resistance achieved for the earth pits already installed. The procedure mentioned above for one earth pit shall be repeated for other earth pits. However, for rocky soils, it is recommended to make 4 earth pits.
- The distance between two successive earth electrodes shall be min. 3mtrs. and max. upto twice the length of the earth electrode i.e. 6 mtrs. approx.
- These earth pits shall then be inter linked using min. 32X5 mm. GI strip to form a loop and connected by suitable galvanized or SS nuts and bolts.
- The interconnecting tape shall be buried at depth not less than 500mm below the ground level. This interconnecting tape shall also be covered with earth enhancing compound. In such cases, 10Kg. earth enhancing compound is required for each interconnection of electrodes, i.e, for every 3m. 10Kg earth enhancing compound is required.
ELECTRODE MODELS
SABO-MFE-40-2 (40 mm. dia and 2m. long)
SABO-MFE-50-2 (50 mm. dia and 2m. long)
SABO-MFE-80-2 (76 mm. dia and 2m. long)
SABO-MFE-40-3 (40 mm. dia and 3m. long)
SABO-MFE-50-3 (50 mm. dia and 3m. long)
SABO-MFE-80-3 (80 mm. dia and 3m. long)
It is always recommended to install 3m long earth electrodes only.
Contact Us
Banarsi Complex, First Floor, Faizabad Road, Opp. SBI Nishatganj Branch, Lucknow, Uttar Pradesh, 226006, India
Phone :+917042637399